Like a matte texture on draft paper, with a special crinkled elastic cotton and delicate texture. The dropped shoulder design and three-quarter sleeves make it a cocoon-shaped outerwear that can be worn all year round.
The exquisite small detail is the Italian-made button, which is made from recycled tree resin and plant fibers. With a warm and mellow beige texture, it also retains the appearance of plant fibers, like a small stone.
-
像是稿紙般的霧面材質,特殊的抓皺彈性棉,細緻紋理。
落肩的設計、七分袖,是一款四季都可以穿的繭型外套。
-
精緻的小細節是義大利製的扣子,是由回收樹酯及植物纖維再製而成。
帶有米色溫潤的質感,也保有植物纖維的樣子,像個小石頭。
-
ONE SIZE | 
胸圍bust 58cm  
下擺bottome hem 55cm 
袖長sleave length 59cm 
衣長lenth 96.5cm 
袖口sleeve opening 20cm
COLOUR: Raw
MATERIAL: Cotton
COMPOSITION: 100% Cotton
ORIGIN: Made in Taiwan
CARE: Hand wash or dry clean, low iron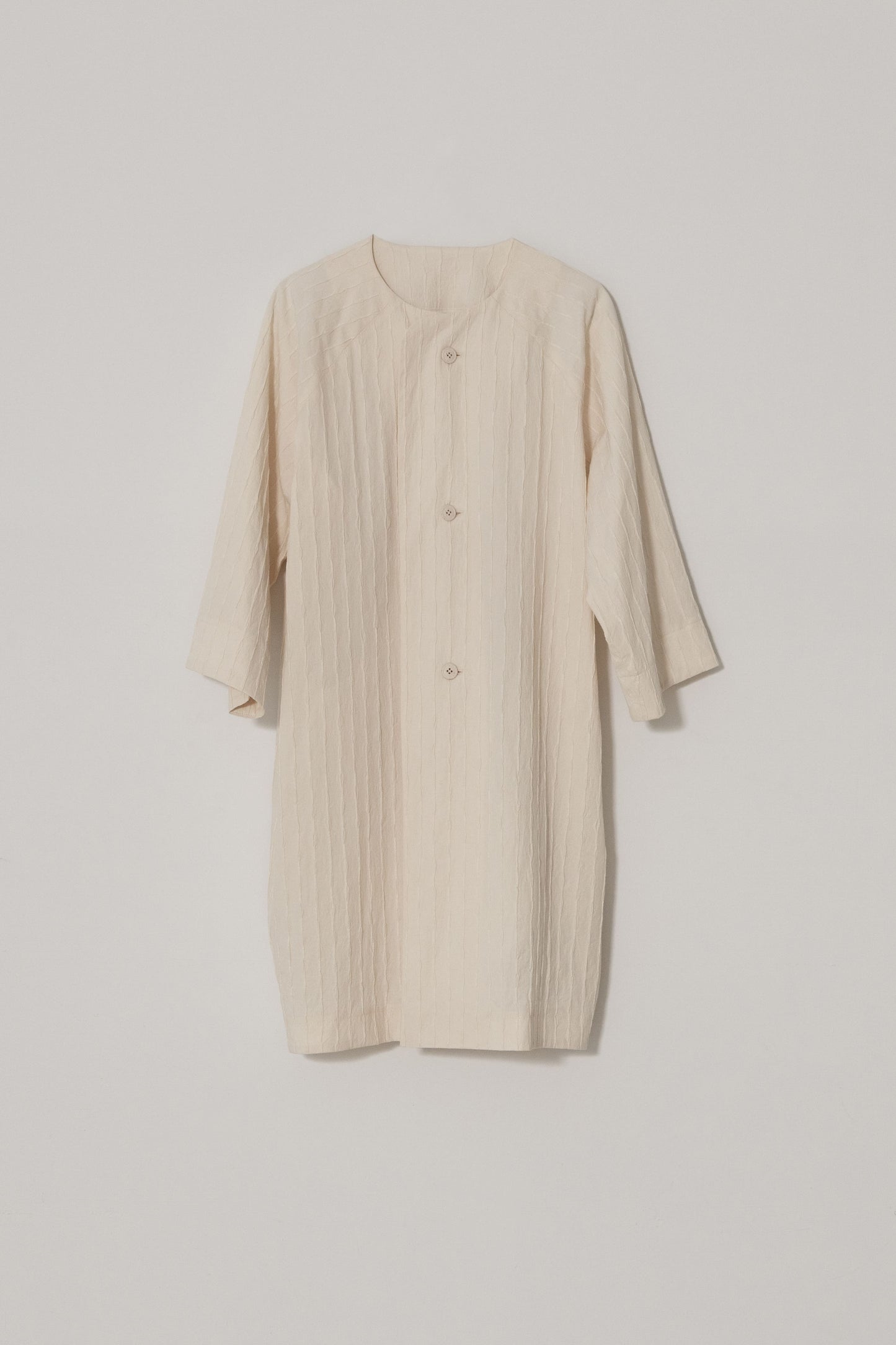 Made to Order
採訂單式手工製作。當我們收到消費者的訂單後,裁縫師傅將立即進行製作。剪布、打版、車縫、整燙、繡花、包裝,按服裝的工序複雜程度,約需等待15-25個工作天。


We provide a made-to-order, handmade service for our products. Once our tailors receive orders, they immediately start the process of pattern making, fabric cutting, sewing, ironing, embroidering, packaging, which usually takes about 15-25 working days depending on the complexity of the designs. Our designs include a wide variety of styles that are all inclusive of all body types. Using materials that are sourced from all over the world, our unique unisex focused designs will never go out of fashion.